SAVE THE DATE:  Our 175th Anniversary Celebration!
November 20, 2016
The theme of the celebration is "Faith Through Generations"
and will be based on Psalm 100.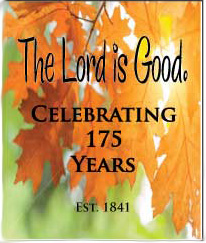 175th Anniversary Calendar of Events
Now, Commemorative cups and travel mugs on sale. Cost of the ceramic mug is $6.00 and the travel mug is $8.00.  Sign up for pictures for the historical directory at www.fortfcc.org
November 22 – December 6, Display at the Hoard Historical museum.
November 20, Celebration worship with special music by Kevin Knapp, A celebration choir, Catered Buffet dinner, Distribution of Historical Directories.
The Lord is Good, His mercy endures forever.  His faithfulness endures throughout every generation.