The First Congregational United Church of Christ was founded in October, 1841.  After meeting in a log cabin and schoolhouse, we built the first church in 1850, on this street, two blocks west of here. The congregation relocated to this site and built its second church in 1865. That wooden frame building burned to the ground in 1942. Rebuilding began in 1946, with the Congregational Meeting House, now our Plymouth Hall. The new sanctuary was built in 1954. The bell, rescued from the fire, now hangs in the tower. Building for Christ was a renewal project that was completed in 2000.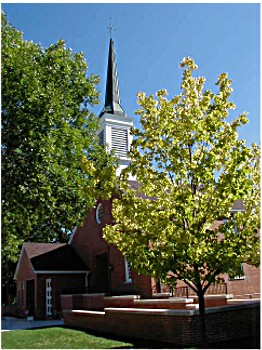 Mission Statement (adopted February 4, 2001)
Founded in scripture and led by the Holy Spirit, our mission is to be a Christ-centered family of faith. Through worship, prayer, study, fellowship and outreach we seek to be a loving congregation committed to spiritual nourishment and growth. Empowered by God's grace, we extend an invitation to all to join us in serving the local and worldwide community.
Ministries of this church include…
The "Breeze" Early Sunday Service 8:00am-8:30am
Radio Broadcast (WFAW  940AM Radio) of 10:00am Sunday Services
Our Daily Bread – Nutrition Center, Tuesday through Thursday at 11:30am
Preschool and Childcare Center, Monday through Friday, 6:00am to 6:00pm
September – May Ministries…
Chapel Bells, Wednesdays at 6:00pm (downstairs, Bell Room)
Circle of Faith, first Thursday at 9:15am (in the Werthmann Room)
Prayers and Squares Quilt and Shawl Ministry, Wednesdays, 9:00am
Senior Choir rehearsals: Wednesdays at 7:00pm and Sundays at 9:00am (Sanctuary)
Lend-A-Hand Society – second Thursday of the month at 1:30pm
Sunday School (8:30am – 9:30am) Preschool to Adult classes, Sept-May
Cherub Choir and Sunshine Singers meet Sundays at 9:30am